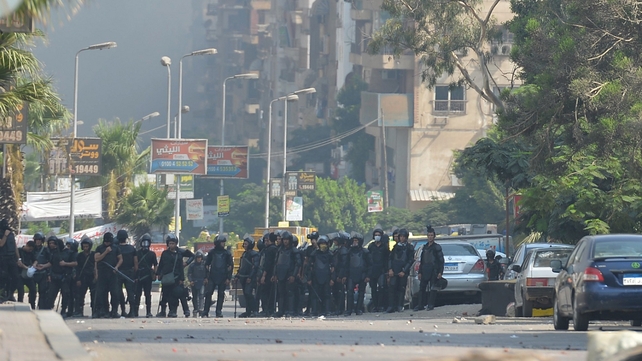 Egypt's riot police in Cairo
Egypt's Security Forces have started early on Wednesday, 14 August, the operation in order to disperse two main Muslim Brotherhood's and pro-Morsi sit-ins in Cairo, located in Nasr City Rabaa Al-Adaweya Square and in Giza's Al-Nahda Square.
Violent clashes erupted between the CSF forces and Muslim Brotherhood's supporters who remained defiant and have been throwing the rocks and stones at the police forces, there have been also reports of the Morsi's supporters using live ammunitions, birdshots and other weapons as well.
Egypt's Security forces though claim they have used only tear gas and water cannons to disperse the crowds.
Clashes erupted in Cairo during dispersing of the sit-ins
Egypt's CSF claims that Al-Nahda sit-in was cleared, while the clashes at the bigger Rabaa Al-Adaweya Square continue. Though the police also granted the safe exit to all the protesters who will decide to leave the sit-in sites willingly, without clashing. There have been several thousand people leaving the Square using those safe exits, according to some reports.
Wave of violent protests of Muslim Brotherhood's supports sparked in other Cairo districts and also nationwide with the angry mob attacking and destroying police stations and also Coptic churches in several governorates. In Cairo thousands of Mohamed Morsy supporters have been headed to the sites of the dispersed sit-ins, but they've been prevented to move farther by the security forces and army.
Clashes in Cairo
Egypt's Presidency has declared state of emergency in the country which will last at least during one month. State of emergency will allow the state to deploy additional military forces to the streets of the cities in order to maintain control and security. State of emergency also gives wider powers to the police allowing it to arrest the suspected people without prior orders.
In addition to that curfew was also imposed in several Egyptian governorates including Cairo, Giza, Alexandria, Ismailia, Suez, Beni Suef, Assiut, Sohag, Beheira, South Sinai, Northern Sinai, Minya. The curfew will be imposed since 7 p.m. till 6 a.m. until the situation will stabilize., though the curfew was later shortened.
Violent clashes in Cairo
There have been also conflicting reports regarding the casualties due to impossibility to verify the numbers of those dead and injured as not all of them are being received by the state's hospitals. Egypt's Health Ministry though reports there are at least 525 people killed and more 3500 injured as a result of the violent clashes on Wednesday. Muslim Brotherhood in its turn claims the numbers of victims are higher.
Egypt's Ministry of Interior also reported they arrested nearly 543 people allegedly involved in the violent clashes in Cairo and other governorates.