Egyptian troops and heavy weaponry deployed to Sinai
Egypt commemorates on Tuesday, 5 August, 16 border soldiers killed last year close to the Israeli and Gaza border.
On 5 August 2012 Egyptian border checkpoint located next to El-Arish, close to Egyptian-Israeli und Gaza border was attacked by the unknown armed assailants. Their attack happened right after the dawn, while the soldiers have been performing Iftar, breakfast during Islamic holy month of Ramadan. The terrible and violent attack performed in such a time and exactly during the Ramadan month, when all the conflicts should be traditionally stopped, was really shocking for Egyptian and also international community.
16 border soldiers have been killed immediately during this terrorist attack. It was one of the worst losses of Egyptian military and the most violent attack since the times of Arab-Israeli wars.
Egypt's Armed Forces have launched a massive military operation called "Eagle" on the territory of Sinai in order to fight the terrorists and to eliminate their activity to restore security and stability on the restive Sinai peninsula where the security situation has deteriorated significantly since Egypt's long standing President's Hosni Mubarak's fall in 2011.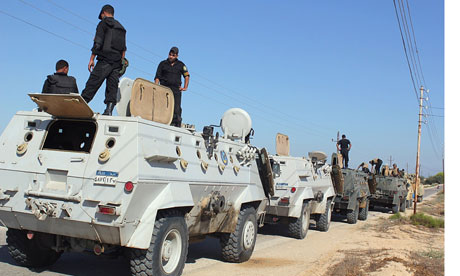 Egyptian military forces in Sinai
Dozens of the armed militants connected to the terrorist networks located in Sinai have been either killed or arrested by Egyptian Armed and security forces during this unprecedented military operation which was launched also in cooperation with the neighboring Israel.
This terrible attack happened a month after Mohamed Morsy, now deposed Egyptian President's, has taken his office. After this attack Egypt's President has ordered sacking of several Sinai high officials and also of North Sinai governor and Mubarak-appointed chief of Intelligence Mourad Mouwafi.
In addition to that SCAF's highest officials, Mohamed Hussien Tantawy and Sami Anan, have been also have been fired and sent into retirement with all the honors. Mohamed Hussein Tantawy was the head of Supreme Council of Armed Forces (SCAF) and Egypt's Defense Minister, Sami Anan took the position of chief of staff in SCAF. Mohamed Morsy has also issued a decree replacing Hussein Tantawy with the current Defense Minister Abdel Fattah El-Sissi who has later ousted Mohamed Morsy in his turn.
Egyptian Armed Forces have commemorated the slain border soldiers in the special military ceremony attended by several leading military officials and government members. The official speech delivered during the ceremony and addressed also to the families of those killed soldiers honored their memory and their duty to the country.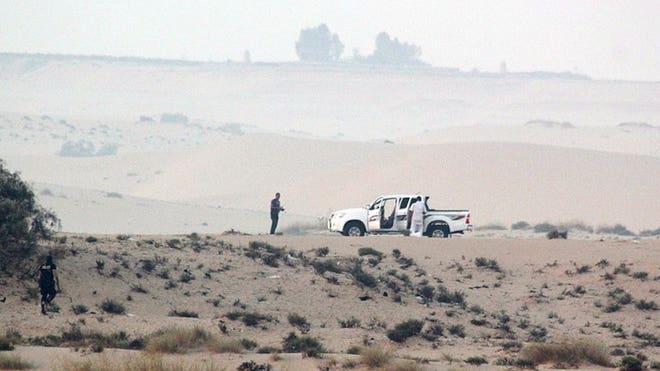 Egypt's military and police checkpoints in Sinai
Meanwhile, Egypt's Sinai Peninsula still remains extremely dangerous with the armed and security forces trying to restore the control in the restive region where the wave of terrorist attacks and violence was spreading since Mohamed Morsy's ouster on 3 July 2013. Nearly 23 soldiers and security forces personnel have been killed since that time during the violent attacks of the armed militants and dozens have been injured.
Egypt's military still continues its operation and activities in Sinai in attempt to eliminate the terrorist activity in the region. Egypt's Armed Forces' official spokesperson, Ahmed Ali, has declared during the press conference on 5 August, that Egypt's military forces exercise self-restraint in Sinai and that the operation in Sinai is ongoing.