Violent and fierce clashes erupted on Monday, 22 July, in Cairo's downtown between Mohamed Morsy's supporters and his opponents.
The clashes and scuffles broke out between the oppositional demonstrators holding sit-in in Cairo's Tahrir Square and the Islamist marches who moved to the area in attempt to reach the US Embassy in order to stage a protest there. The clashes have reportedly erupted when the Tahrir demonstrators thought the Muslim Brotherhood's supporters are attempting to attack them.
The both sides have been throwing the rocks and stones and reportedly exchanging the birdshots fire as well, according to some journalist at the scene. Several videos published by news agencies and outlets have shown the armed unidentified men in the area of Qasr Al-Nil Bridge which leads to Tahrir Square and shooting in the direction of the Tahrir demonstrators. But the journalists covering the events at the scene have reported there has been shooting in respond from Tahrir as well.
Egypt's military and security forces have interfered deploying the military vehicles and additional troops in the area and closing the traffic for several hours.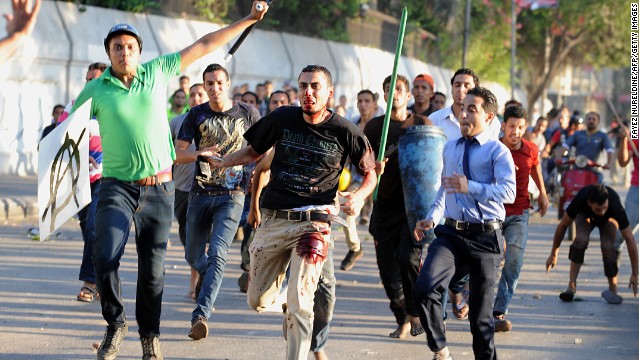 The result of Monday violent clashes is 1 death and nearly 21 injuries, according to Egypt's Health Ministry.
Meanwhile the protests with clashes erupted in other Egyptian governorates as well including Qalyibiya where at least two people have been killed.
We would remind that Egypt's Muslim Brotherhood's and Mohamed Morsy's supporters continue their protests and sit-ins all over Egypt demanding the reinstatement of Morsy as legitimate President and cancelling of the recent Armed Forces' decisions which they consider being a coup against Mohamed Morsy.
Meanwhile the whereabouts of Egypt's deposed President Mohamed Morsy remain unknown as army officials claim he is being in detention in a secret place for his own safety and for security of the country. Though the members of Morsy family including his son and daughter have made the official statement on Monday that they are ready for the legal actions against Egypt's military heads accusing Armed Forces in kidnapping Mohamed Morsy as they didn't have the chance to meet the ousted President and even have no information about him since his ouster on 3 July.
Thus the situation in the country remains extremely tense with the society deeply divided and the deteriorating economical and security situation.