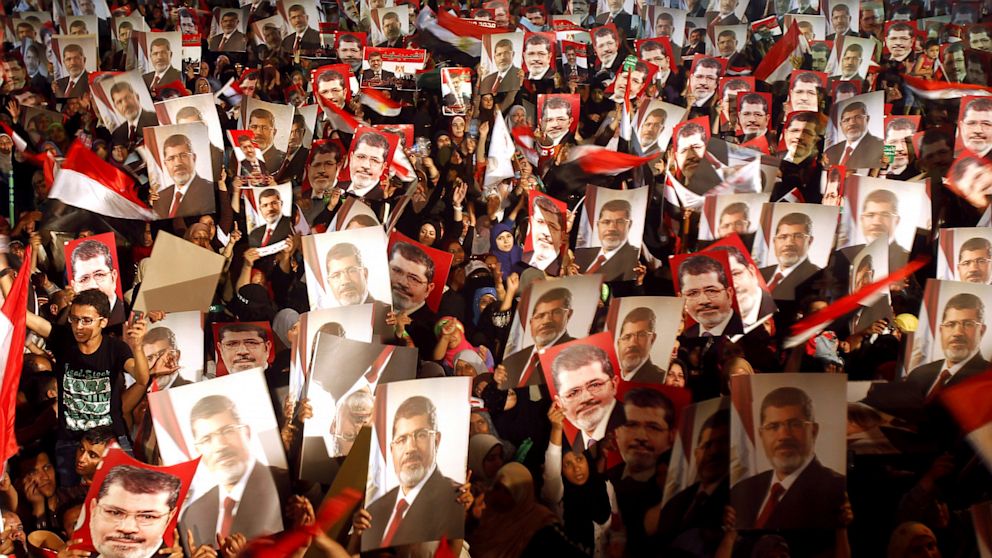 Supporters of Egypt's ousted President Mohamed Morsy
Supporters of Egypt's recently ousted President Mohamed Morsy who currently hold sit-in in front of Rabaa Al-Adaweya Mosque in Cairo's Nasr City have held a march on Wednesday to the Presidential Palace located in Heliopolis.
Several hundred supporters of Muslim Brotherhood and Mohamed Morsy headed late in the night to the building of the Presidential Palace to express their condemnation of violence on Monday during the cit-in of Islamist demonstrators in front of Republican Guard headquarters which toll the lives of 52 people and left hundreds injured.
The demonstrators have been protesting against army reaction and violence and also demanded the reinstatement of Mohamed Morsy as a President.
It's worth mentioning that since Monday, 8 July, several marches across the country have been organized to deliver the message of Muslim Brotherhood supporter regarding the actions of Egypt's military.
The violent clashes erupted early between Islamist protesters and army in the morning on Monday, 8 July, in front of the Republican Guards headquarters in Nasr City where Morsy supporters believe the ousted President is currently being held by military. Muslim Brotherhood accuses army of attacking the peaceful demonstrators who have been reportedly performing the morning prayers. Meanwhile army denies such accusations stressing that the terrorist armed group has attempted to attack the building of the Republican Guards. The clashes resulted in 51 dead and hundreds of injured and have been strongly condemned by the Islamist powers and also by the opposition as well.
The Wednesday night march to the Presidential Palace was peaceful with several hundreds of demonstrators who returned to the Rabaa Al-Adaweya Mosque without any incidents.
Meanwhile Egypt's armed forces have deployed the additional personnel and military vehicles in the area of the Presidential palace and the neighboring streets in case of clashes.
Muslim Brotherhood's leadership also calls for the million-men marches to be held across the country on Friday, 12 July, to deliver the main message and the key-demands of the Islamist forces of the country to cancel the military decision and to reinstate Mohamed Morsy as Egypt's President.