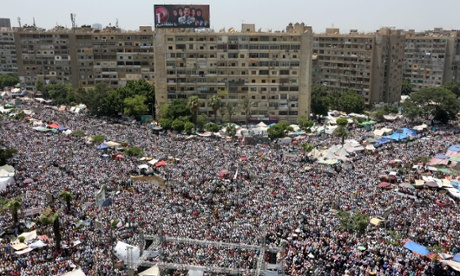 Egypt's Islamist demonstrators and supporters of
Mohamed Morsy in Nasr City
Egypt's Islamist forces and parties and the opposition as well have been calling for the protests and mass gatherings on Friday, 12 July, in Cairo.
Supporters of Egypt's recently ousted by military President Mohamed Morsy have declared they will hold a million-man march on Friday at Rabaa Al-Adaweya Mosque in Cairo's Nasr City, the place where hundreds of thousands of Muslim Brotherhood's supporters have gathered since 28 June protesting against the attempts to oust Mohamed Morsy. Islamist political forces and numerous supporters of Mohamed Morsy rejected the move of military to oust Egypt's President Mohamed Morsy and to form the transitional government claiming it as a military coup. Mohamed Morsy is considered being the legitimate and democratically elected President of the country, and his supporters are demanding his reinstatement in his position. The also demand military to cancel its recent decisions including dissolving of the Shura Council and government and suspending of the Constitution.
Islamist protesters have announced about their plans to hold a massive demonstration on Friday where they will demand Morsy's reinstatement and cancelling of the Constitutional Declaration issued by Egypt's interim head of state Adly Mansour. They also are aimed to send a message condemning the recent violence against Muslim Brotherhood protesters on Monday, when Islamist demonstrators have clashed with military in front of the Republican Guard headquarters leaving 52 people dead and hundreds of injured, most of them supporters of Morsy.
Thus tens of thousands of supporters of Mohamed Morsy have gathered in front of Rabaa Al-Adaweya Mosque on Friday, many of them arrived there late on Thurday. People from all over Egypt have reportedly joined this protest. Another Islamist march is being held in front of Cairo University, coming from Dokki and Giza.
The recently created Alliance in Support of Legitimacy which united several prominent Islamist political powers and parties participated in the event along with thousands of supporters. The protesters claim to stay in the squares protesting until Mohamed Morsy will be reinstated as a President, and some of the protesters even declare they are ready to be martyrs for their President.
Celebrating in Tahrir Square after Mohamed Morsy was ousted
Meanwhile, Egypt's oppositional forces including National Salvation Front and 30 June Movement have called for the mass gatherings in Tahrir Square and in front of Presidential palace in Heliopolis to hold there iftar - the breakfast during Muslim holy month of Ramadan. Tens of thousands of youth and supporters of the 30 June revolution are expected to participate including NSF, 30 June Movement, Constitution Party, Egypt Popular Current and others.
The leaders of oppositional, mainly liberal and leftist political powers and groups, are also calling for their supporters to remain in the squares of the Egyptian cities to celebrate the decision of army to oust Mohamed Morsy and to support the efforts of the 30 June revolution.
Thus two rival powers in Egypt plan the mass demonstrations and gathering in Cairo on Friday, 12 July.