Egypt's anti-Morsy "Rebel" campaign
Egypt's anti-Morsi "Rebel" campaign launched on 1 may 2013 is expected to start its so called "Rebel week" to spread the awareness about the campaigns and its aims in Egyptian cities and to continue collecting the signatures against Egypt's President Mohamed Morsy.
The "Rebel" campaign aim to collect 15 million signatures nationwide against Mohamed Morsy which would be more than the number of people who gave Morsy their votes during the presidential elections last year. The main task of the campaign is to express disappointment with the failed politics of Mohamed Morsy and Muslim Brotherhood which is trying to monopolize the power in the country. By gathering the needed 15 million signatures the campaigners will withdraw confidence from Egypt's President and to demand the early presidential elections.
The representatives of the anti-Morsy "Rebel" campaign have announced last week that they have already gathered more than 7 million of the signatures and expect to gather more as the campaign has also launched its official website.
The "Rebel week" in its turn is aimed to spread the information about the anti-Morsy campaign in other Egyptian cities and to gather the new signatures. The campaigners have declared that they expect to gather a lot of signatures in Upper Egypt.
The "Rebel week" is scheduled to be started on Friday, 13 June, in the Canal city of Port Said and in several other governorates as well.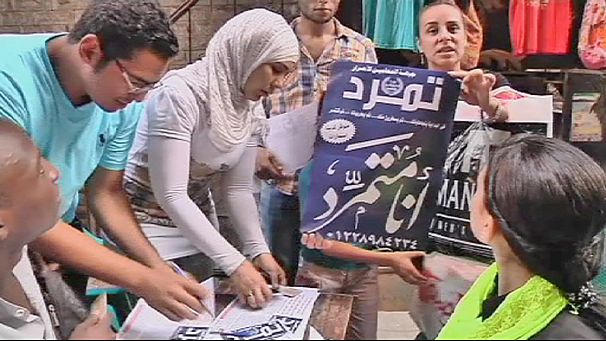 gathering the signatures
It's worth mentioning that the "Rebel week" will also follow the violence which erupted this Wednesday in Alexandria between Muslim Brotherhood's and Morsy's supporters and the "Rebel" campaigners which resulted in several injuries.
"Rebel" campaign is also supported by several oppositional political groups including National Salvation Front and also by some Islamist forces who disagree with the policies of Mohamed Morsy and his political party.
A million-man march is also planned for 30 June, the anniversary of the date when Mohamed Morsy won the presidential elections and sworn as a President of the country. The demonstrations are expected to be held in Cairo and in other Egyptian governorates, and there are already numerous scenarios of the possible development of the events are circulating in the country.
Meanwhile the organisers of "Rebel" campaign have addressed Egypt's Interior Ministry and police asking to protect their demonstration as they have received threats from Muslim Brotherhood with several activists already attacked.