Abdel Fattah El-Sissi, Egypt's Defense
Minister
Egypt's Minister of Defense Abdel Fattah El-Sissi has called on all the political powers of Egypt to reconcile and find the consensus to resolve the current political crisis in the country. He made this statement during his official speech on Sunday, 23 June, during the military lection.
Egypt's Defense Minister stated that the state's armed forces are called to protect and secure the country, its people, official institutions and property, so the military urges the political powers to gather and to find the understanding between each other on the eve of the planned massive anti-Morsi rallies on 30 June which believed to become the second Egyptian revolution.
We would remind here that the "Rebel" campaign which united the representatives of all the factions of Egyptian society with the same goal to withdraw confidence from Morsi as he and his administration failed to fulfill their political promises is planning the million-men marches in Cairo and nationwide on 30th June, the day which will mark the year since Mohamed Morsy was sworn into office as the first freely elected Egyptian President.
This campaign aims to gather 15 million signatures against Mohamed Morsy which will be more then the number of people who voted for him during the presidential elections. The campaigners are planning then to send the official petition to the Prosecution office demanding the withdrawal of confidence from Morsi and the early presidential elections to be held. "Rebel" also united numerous political parties and powers, mostly oppositional and liberal, and also a lot of activists and Egyptian citizens.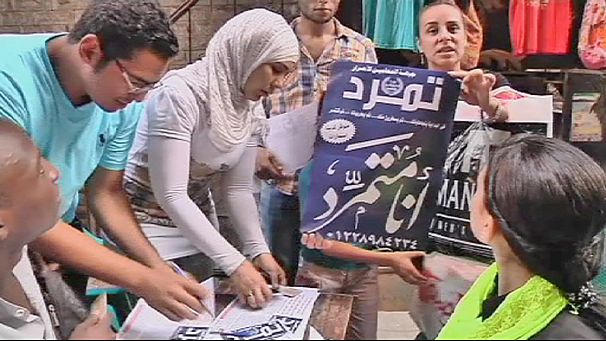 Gathering the signatures during the "Rebel" campaign
But on the eve of the expected 30 June demonstrations the society remains divided as the supporters of Morsi and his rivals clashes in the political battles and both planning the protest actions on the 30 June, as Egypt's Islamists recently declared they will held mass rallies to support Egypt's President and his policies.
Though amid all these events and tensions existing in Egyptian society Egypt's Armed Forces called for trying to find the reconciliation in order to prevent the possibility of chaos, sectarianism and violence in Egypt which could occur under current circumstances. Egypt's Defense Minsiter also added that the military tried to avoid politics during the latest period and it will remain like this too, but it will not stay aside in case the violence will erupt in the country as the main task of Egyptian Armed Forces is the protection of the people and state's property.
The current situation in Egyptian society is very dangerous if it will continue, stressed the Minister. That's why it is the task of a big importance for the political forces of the country to gather and find the common solution for the crisis before the planned events of 30 June, it means, during this week, announced the Minister of Defense.