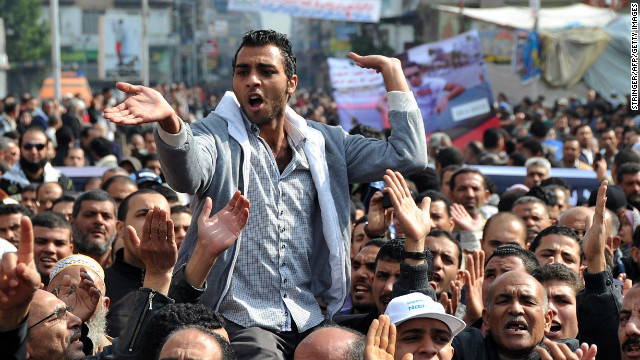 Protesters in Port Said
Hundreds of Port Said residents gathered on Friday, 15 March, in downtown of the Canal city to protests against Muslim Brotherhood and Egypt's President Mohamed Morsy who hails from the Islamist group.
Port Said demonstrators protested against the government's systematical negligence of the region and demanded the retribution for those killed and injured in the city during the recent violent clashes.
Among the main demands of the protesters was also the dismissal of the Port Said governor Ahmed Abdallah. Port Said group Ultras Green Eagles has also organized the protest where they totally rejected President's Mohamed Morsy's Thursday speech regarding the situation in Port Said. Some of those recently acquitted in the Port Said stadium trial have also joined the protests.
The demonstration included also the activists and representatives of different political powers and parties in Port Said. Protesters have been chanting against the city's governor and demanded his dismissal and also against Egypt's President Mohamed Morsy. They chanted accusing Morsy of being just like Hosni Mubarak and of repeating his policies and tactics.
Screenshot fron Egyptian state's TV: Morsy's televised speech
There was also another protest took place in Port Said on Friday. This demonstration started from the cemetery area and headed to the headquarters of Port Said's governorate. There is also a sit-in of the families of slain protesters there.
It's worth mentioning that Egypt's President Mohamed Morsy was willing to meet the families of those killed and injured during the recent clashes in the cities, but as he didn't visit the city and invited the families to his residence in Cairo, most of the people refused to attend the meeting. Only three families met the President.
In addition to that Egypt's President addressed Port Said residents and families of the martyrs in his pre-recorded TV speech praising the people and promising that their rights will be protected and the rights of the martyrs will be preserved. This speech also provoked anger among the residents of Port Said.