General Abdel-Fattah El-Sissi, Egypt's head of Armed Forces
and Defense Minsiter
Amid continuing massive protests against the recent presidential decree and the upcoming Constitutional referendum and also the Islamist rallies showing support for Egypt's President and the Constitution Egypt's Armed Forces has been calling for the negotiations between the county's political forces in attempt to find the solution in the current tense situation.
Colonel Mohamed Ali, the official spokesperson of Egypt's Armed Forces, has issued a statement which says that Egypt's Head of Armed Forces and Defense Minister Abdel-Fattah El-Sissi is calling for President, presidential powers and also for the opposition to take part in the "dialogue meeting" on Wednesday, 12 December 2012, to discuss the current political crisis and to find the ways to resolve it.
According to the statement Egypt's Defense Minister is inviting the state's President, members of Egypt's government, prominent politicians, opposition forces and parties, revolutionary forces and youth, intellectuals, scholars, representatives of Al-Azhar and also the Church, farmers and workers and also artists to participate in the Wednesday's meeting.
The meeting is planned to be held at 4.30 p.m. local time in Cairo, at the Air-Defense Hall in New Cairo. President Mohamed Morsy would attend the meeting, according to his official spokesperson Yasser Ali.
It's worth mentioning that the proposed by Egypt's Military dialogue is rather social than political one, as the Armed Forces do not have the authority to call for the political meeting and talks. The scheduled dialogue meeting is aimed to help to resolve the deep crisis in the country and to eliminate the divisions between Egyptians ahead of the Constitutional referendum planned for 15 December.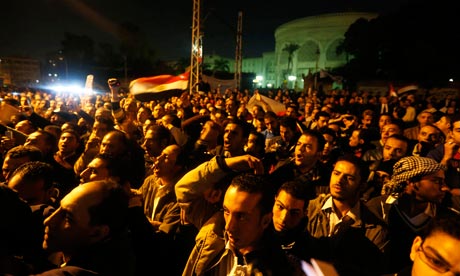 Massive rallies in Cairo
Meanwhile, massive rallies have been taking place today in Cairo and in Egypt expressing different points of view regarding the current situation in the country.
Both of the demonstrations, Islamist and the oppositional one as well, have gathered hundreds of thousands people. Islamist rally has expressed their support for Mohamed Morsy's decisions and for the Constitutional draft urging to vote "Yes" on 15 December. Anti-Morsy protesters declared their rejection of the Constitutional Declaration issued by Morsy and of the Constitutional draft created by the unrepresentative Assembly strongly dominated by the Islamist forces. There are also some divisions among the oppositional forces as some of them keep calling on boycotting the upcoming national referendum, but the others are going to vote against the draft.