Thousands of Egyptians gathered in Cairo's Tahrir and in
other Egyptians governorates to protest against Morsy's
Constitutional Declaration
On Tuesday, 27 November 2012, thousands of Egyptians have gathered in Cairo's iconic Tahrir Square and in the main squares of other Egyptian cities to protest the recently issued by Egypt's President Mohamed Morsy Constitution Declaration which grants the President unchallenging powers.
According to the presidential decree all the laws, decisions and decrees issued by Mohamed Morsy are final and cannot be challenged by any authority, even judiciary. In addition to that Mr. Morsy has also sacked Egypt's Prosecutor General and appointed the new one, what was the move strongly criticized by the judges refusing to accept this decision and starting the strike protesting against this decree.
The controversial Constitutional Declaration also immunized the Upper House of Egypt's Parliament, Shura Council, and the Islamist-led Constituent Assembly from the dissolution.
This declaration was met with the deep concern and provoked the wave of protests in Egypt. Egypt's oppositional, liberal and secular forces announced they will not accept this decision as it threats the democracy, freedom of rights and goals of the revolution in Egypt and is leading to the monopolization of the state's power in the hands of Mohamed Morsy and Islamists. Prominent oppositional leaders and several political forces have created the National Salvation Front to fight this presidential decree and protect the achievements of the revolution.
As Mohamed Morsy faces the growing international and internal pressure, thousands of Egyptians have been protesting in Egypt since Friday. The massive million-man march took place today in Cairo and in other Egyptian cities, where thousands of people gathered to express their demands.
I'd like to share here the article written by Hatem Maher and published in Ahram-Online.
Here is the original link for the article.
Packed Tahrir Square defiant as deadlock prevails over Morsi decree
Egyptian demonstrators pack Cairo's iconic square Tuesday to demand annulment of president's contentious decree; Muslim Brotherhood has yet to respond
Hatem Maher , Tuesday 27 Nov 2012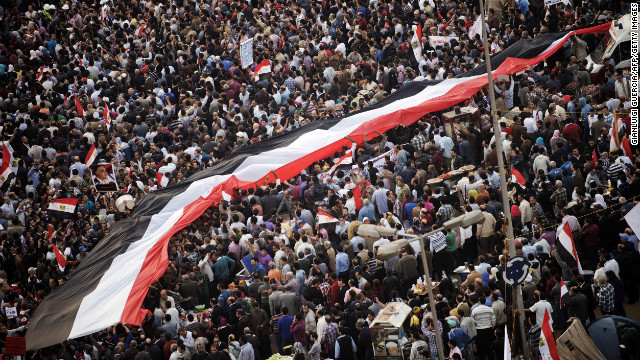 Over 100,000 defiant protesters occupied Cairo's Tahrir Square on Tuesday to demand the cancellation of President Mohamed Morsi's controversial Thursday decree. Egypt's ruling Islamists, however, showed no sign of backing down, suggesting that continued political deadlock is inevitable.
Facing his most serious domestic test since assuming power on 30 June, Morsi finds himself embroiled in a battle – with leftists, liberals, socialists, and several other influential political sectors – after issuing a decree that would shield his decisions from legal challenge until a new parliament is elected.
His decree also protects the Islamist-dominated Constituent Assembly (tasked with drafting the country's first post-revolution constitution) and the Shura Council (the upper house of Egypt's parliament) from dissolution. It also relieved Egyptian Prosecutor-General Abdel-Meguid Mahmoud of his duties, bringing in Judge Talaat Abdullah as Mahmoud's replacement.
In rallies that remained largely peaceful, thousands took to the streets in Cairo, Alexandria, Assiut, Tanta, Mahalla, Mansoura, Luxor, Suez and Port Said, in scenes reminiscent of last year's 18-day uprising that unseated autocratic leader Hosni Mubarak.
The Nile Delta city of Mahalla, however, witnessed clashes between Morsi's supporters and opponents in front of the office of the Muslim Brotherhood's Freedom and Justice Party (FJP).
"If the decree isn't undone, we will demand that Morsi himself leave. Then we can have new presidential elections," Khaled Metwali, a member of the leftist Democratic Revolutionary Coalition, told Ahram Online.
"We plan to remain in the square until Morsi backtracks on his constitutional decree," Metwali added.
Withstanding pressure
Morsi, backed by Islamist parties and groups, has so far withstood immense pressure to reverse his decision, which has prompted opponents to brand him Egypt's "new Pharaoh."
He has also incurred the wrath of Egypt's judges, many of whom vowed to challenge his decree by calling strikes. Many journalists and lawyers were similarly infuriated by the president's latest move, which they believe poses a threat to democracy.
Thousands of lawyers marched from their syndicate to Tahrir Square, the cradle of last year's revolt, chanting "The people want the fall of the regime" – a slogan frequently heard during Mubarak's final days in power.
The Brotherhood, from which Morsi hails, launched an attack on Morsi's opponents, accusing them of "not caring about the country's national interests."
"On January 25, united Egyptians [Islamists, liberals and leftists] revolted against autocracy, supported by millions across the country. Today is politics," the Islamist group declared on Twitter.
"When ordinary Egyptians across the nation see pro-Mubarak [elements] protesting in Tahrir along with Islamists' rivals, they know this isn't January 25," the group added. "The opposition thinks the significance of today is of Tahrir protestors; they should brace for millions in support of the elected president."
The Brotherhood had initially planned to hold parallel demonstrations on Tuesday, but backtracked at the last minute to avoid potential clashes with its political rivals.
Morsi's decree has nevertheless sparked violence in several governorates, which have left three dead so far.
The president's supporters argue that the decree is necessary to tackle deep-rooted judicial corruption; opponents say it will only pave the way for an Islamist dictatorship.
According to Al-Ahram's Arabic-language news website, the Brotherhood's authoritative Guidance Bureau is mulling measures to appease protesters, but the group has so far refrained from making any public statements to this effect.
A meeting on Monday between Morsi and Egypt's Supreme Judicial Council, the state's highest judicial authority, failed to bear fruit.
Several of the president's advisers, meanwhile, have resigned over the issue, ratcheting up even more pressure on the president who at one time had been jailed by Mubarak.
It remains to be seen whether Morsi and the Brotherhood will be able to contain the outpouring of public anger, especially among the young people who were on the frontlines in the battle to topple Mubarak.
Back to Tahrir
Many of the protesters camping out in the flashpoint square compared Morsi to his autocratic predecessor, with some going so far as to demand he step down only five months after becoming Egypt's first-ever freely elected head of state.
"It's not my first time in Tahrir Square. I'm here to stand against the constitutional declaration and the 'Brotherhoodisation' of Egypt," Asmaa Salem, 40, a member of the Popular Current, told Ahram Online. "Either Morsi cancels the declaration, or we'll topple him like we did Mubarak."
Standing by protesters, several well-known politicians have established a new 'National Salvation Front' – including Nobel Prize laureate Mohamed ElBaradei and former presidential candidates Amr Moussa and Hamdeen Sabbahi – to oppose Morsi's divisive decree.
Protesters are planning to hold another million-man march on Friday, in hopes of exposing Morsi's and the Brotherhood's growing political isolation.
"Egypt is losing every day," presidential adviser and prominent writer Ayman El-Sayad declared as protesters and Morsi supporters braced for renewed confrontations.