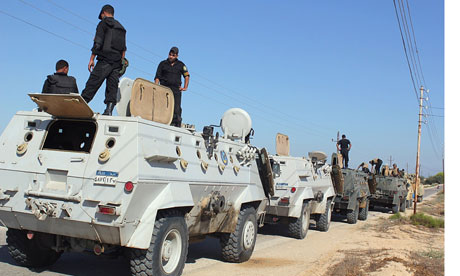 Egyptian armed forces in Sinai
Three police officers were reportedly killed in the attack in Northern Sinai city of Al-Arish, according to the state TV. Other three policemen were wounded.
The attack took place in the afternoon when the armed militants opened fire on the police car and then managed to escape. The state authorities still have not identified them.
Al-Arish hospital received the bodies of the killed officers at about 3 p.m. local time. Three injured policemen are also in the hospital receiving medical treatment.
State TV reports the assault was carried out by the Islamist fighters operating in the region.
Egyptian armed and security forces launched a massive military operation targeting the Islamist fighters and terrorists in Sinai after terrible 5 August attack on the Egyptian-Israeli border which took the lives of 16 Egyptian soldiers. This operation was the biggest since decades and is conducted with the coordination with the neighboring Israel. The operation is still ongoing in the region in order to eliminate the terrorist activity in Sinai and to restore security and order in the Peninsula, as it turned to the lawless territory and the situation there deteriorated significantly after the ouster of Egypt's long standing President Hosni Mubarak in 2011.