Syrian President Bashar Al-Assad and UN Peace envoy
Lakhdar Brahimi during the meeting regarding the issue of
cease-fire
The command of Syrian Army declared four days of cease-fire in the country during the days of Eid Al-Adha, one of the biggest Muslim holidays. The Free Syrian Army, the rebel army, also supported the cease-fire which came after the proposal of the international peace envoy Lakhdar Brahimi.
Syrian people have got the chance to spend the Holiday in relatively calm atmosphere if the both sides of the conflict will really halt the violence. The cease-fire is declared since Friday morning till Monday, according to the terms of the cease-fire agreement.
But there is one condition of the agreement: the both sides of the conflict save their right to respond any attack or bombing coming from another side. The Free Syrian Army also stated that they have specific conditions for the cease-fire. According to the statement of Kassim Saad Eddine, the Head of Syrian Free Army, the peace and cease-fire will last till the first move from the side of Bashar Al-Asad. If the pro-Assad forces will break the terms of the agreement, rebels will be forced to respond.
Meanwhile there is no unity among the rebel's forces and in their command, as some of the Assad's fighters agreed to the cease-fire agreement and its conditions, while other forces expressed their disapproval of such a mood and rejected any form of cooperation with the Assad's regime. For example, the radical Islamist group Al-Nousra stated that they will not accept any agreement with Assad.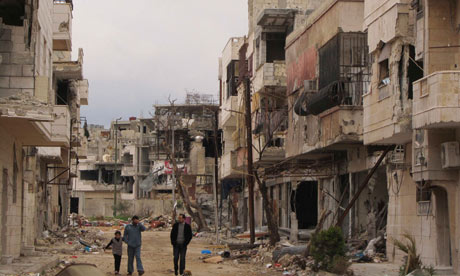 Destroyed streets of the Syrian city of Homs
The UN peace envoy Lakhdar Brahimi expressed the hope that the cease-fire will help to start the new stage of the negotiations in Syria what would help to resolve the 19-months crisis in the country and to stop the bloodshed which already took the lives of tens of thousands of Syrians with the daily death toll over hundred people.