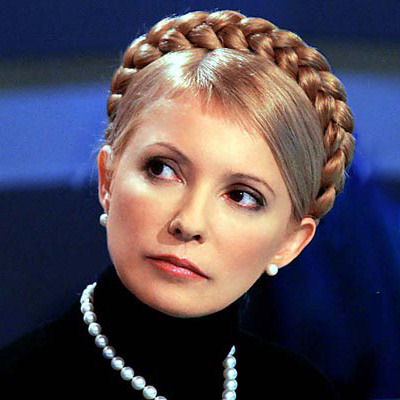 Julia Tymoshenko, Ukrainian oppositional leader
The health conditions of Julia Tymoshenko, prominent leader of Ukrainian opposition currently imprisoned, have been improved, but she still needs special medical treatment. Mrs. Tymoshenko's doctor Lutz Harms, who arrived from Germany, said he hopes Mrs. Tymoshenko will not become disabled.
"I cannot tell that we can exclude the possibility of the patient's disability, but there is a hope that we will be able to avoid it. We can see the noticeable positive changes in Mrs. Tymoshenko's health conditions, so we can estimate the development of the events positive", announced Lutz Harms.
The health conditions of the oppositional leader have been generally improved.
German doctor stated that the mobility of the patient is increasing step-by-step. The pain is also less and not so intensive. But it is obvious, that if the patient, who suffers from such a pain syndrome, always passes through the numerous stresses coming from outside, it cannot be good for the health. It worsens the situation and complicates the process of the treatment itself. "But anyway we are happy that we have such successes and can witness the improving of Mrs. Tymoshenko's health conditions on the current stage", added Lutz Harms.
But the doctor also stressed that the team of the medical specialists were expecting the more progress. The reason of it could be the constant stress which Mrs. Tymoshenko experiences, such as the questionings and searches in her room.
Regarding the medical aspects the doctor said that Mrs. Tymoshenko still complains of pains. Mr. Harms stressed that those pains are significantly lesser now, and the patient can already walk a little bit and make a few steps by herself. She is keeping on working intensively to improve her health conditions and her possibility to move without the help. But she still needs help to move on the longer distances, added the doctor.
Lutz Harms, German doctor, one of the members
of the meadicla team tasked with the
medical treatment of Julia Tymoshenko
But at the same time the possibility of Mrs. Tymoshenko's disability cannot be completely excluded, said Mr. Harms. Moreover the doctor is not even sure that his patient will be able to be present at the court hearing scheduled for 16 October.
The disease and this medical case turned up more complicated than it was expected, so it is very difficult to make any forecasts at the moment, stressed the German doctor.
Paisa Moiseenko, the Head of the joint medical commission tasked with the examining of Mrs. Tymoshenko's health conditions and her treatment, also thinks that it is probably very unlikely that the oppositional leader will be able to take part in the court hearings and be present at them due to her health conditions. Raisa Moiseenko also added that Julia Tymoshenko receives currently the medical treatment according to the plan of her German doctors.