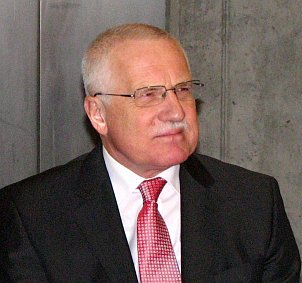 Vaclav Klaus, Czech President
Czech police has arrested the 26-years old man suspected of an attempt to assassinate the President of Czech Republic Václav Klaus today, on 28 September 2012. Czech media sources report President didn't hurt, and the suspected man is currently under arrest. The police started the questioning and the investigation.
The incident occurred in the North-Western city of Chrastava where Mr. Klaus arrived to take a part in the ceremony of the opening of the new bridge in the city. The head of the Czech Republic was among a big group of people including the politicians, officials and journalists, while the attack happened. Czech President had the conversation with the members of the meeting when the unknown man came close to him and suddenly shot at him from the plastic weapon.
The governor of Chrastava city, Michael Canov, told the journalists during his interview that he was standing close to the president when it happened. The unidentified man came to Mr. Klaus and shot several times, so the Chrastava governor even didn't understand what exactly happened.
After the shooting the unknown man was trying to escape and to hide mixing with the crown but he was captured by the Presidential security and later arrested by the Police forces of Czech Republic. He is 26 years and was using the plastic weapon for the strike ball. He is questioned by the police and his motivation to be revealed soon.